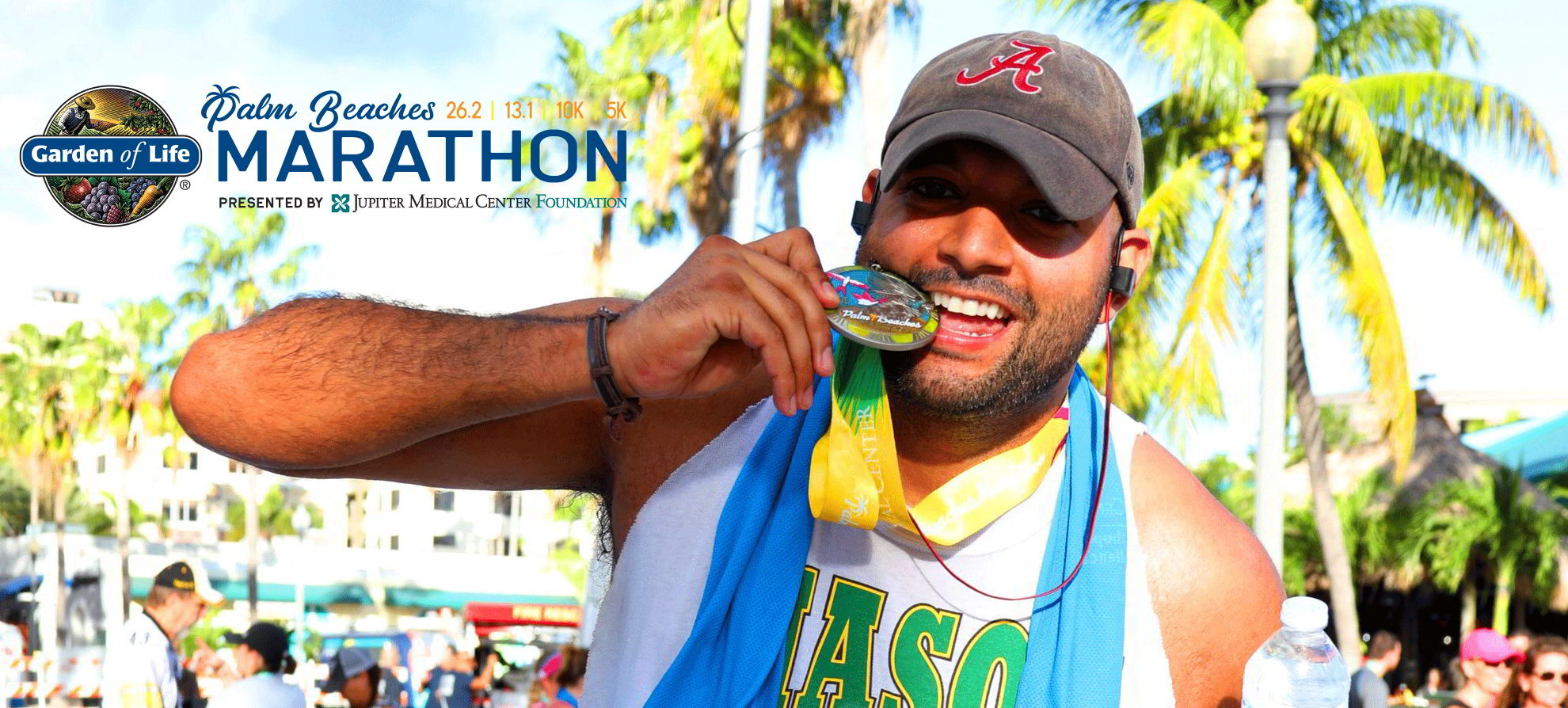 Race Weekend

December 10-12, 2021
Half marathoners split off from marathoners at mile 13. The relay follows the marathon course.
Click to view>>
Course Support
On Course Aid Stations
Aid Stations approximately every mile (see map).
Portalets at every aid station and the relay exchange zone
We have water, Gatorade, fruit, bars and energy gels as well as medical support, our bike support, and local EMS.
First Aid/Medical
Medical staff available at each aid station. Main medical tent located next the race on village (Datura between Narcissus and Flagler Drive). On course medical tents located on N. Flagler Drive by 36th Street and on S. Flagler Drive by Monceaux Rd.
Medical services provided by Jupiter Medical Center.
Pace Team
The Pace Teams run with enthusiasm, dedication and commitment to help you run your best! 
We have partnered with MarathonPacing.com as our official Pace Team for the Garden of Life Palm Beaches Marathon and Half Marathon. Their Pace Leaders have paced over 19 marathons on average and are trained in CPR. The Pace Teams run with enthusiasm, dedication and commitment to help you run your best!  
What is a pace team?
A pace team is a group of runners led by an experienced leader who run together in the marathon. The pace leader runs a steady pace and keeps track of that pace so that the group can achieve their goal of finishing the marathon at a particular time. There are wonderful benefits of running with a pace group. You'll be supported by a cheerful leader and will be side by side with other runners sharing the same goal as you.
The Pace Team promises to provide fun and excitement for both first time, and experienced marathoners looking to reach their running goals – whether that's a personal best, or just getting across the finish line.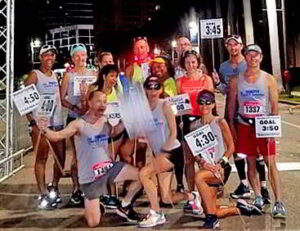 As a benefit to runners the Pace Team will be there for you. We will be offering pace groups led by experienced pacers for a wide variety of times including many of the Boston qualifying standards.
PACE TEAM FAQ
HOW DO I SIGN UP TO RUN WITH A PACER?
Just stop by our table the Packet Pickup/Expo and we'll discuss your race plan and make sure you're in the proper pace group. You can also find us at the beginning of the race.
WHERE DO THE PACERS COME FROM?
All of our Pacers were chosen because of their years of running many marathons around the country but most importantly their extensive marathon pacing experience. Our Pacers are dynamic and personable, and know from past experience exactly what it takes to help you have a great marathon experience.
HOW WILL THE PACERS BE RUNNING THE RACE?
Every pace leader will be holding a steady pace throughout the marathon. These "even splits" are the best way to achieve your peak performance in the race. They will make appropriate adjustments for elevation changes and to deal with course crowding issues.
WHERE WILL MY PACE LEADER BE ON RACE MORNING?
About 30 minutes before the start we'll be assembling in the starting area. Each Pacer will be holding up their pace sign so when you see it go and join up with the group. About 15 minutes before the start the Pacer will give you some last minute instructions about running with the group. They will talk about the course, what to do if you need a break, and how to make it through the water stops. We will be wearing our bright Pace Team uniforms. Now is the time to ask any last minute questions you may have.
PACE TEAM LINE UP EXAMPLE
2020 Line Up TBA
Goal Finish Time:
3:45 (8:35/Mi) Pacer Bruce
3:55 (8:47/Mi)  Pacer Dave
4:00 (9:10/Mi)  Pacer Scott
4:15 (9:44/Mi)  Pacer James
4:30  (10:18/Mi) Pacer Diane
4:45 (10:41/Mi) Pacer Ken
5:00 (11:27/Mi) Pacer Tim
5:15 (12:01/Mi) Pacer Jeff
5:30 (12:36/Mi) Pacer Cindy
3:00 Half Marathon (13:42/Mi) Pacer Brandi
6:00 (13:44/Mi) Pacer Audrey
Half Marathon Sweeper Pacer Marcela
Both Full and Half Marathoners will run in the same Pace Groups. The Pace Team is free to registered runners
Runner's Perks 
Race tech shirt. Short sleeve shirt for SunRun 5K and 10K participants; long sleeve shirt for the Half Marathon, Marathon, and Relay.
Finisher medal
Garden of Life goody bag  (min. value $100)
Free race photos
After party with food and beverages
Electronic finisher certificate

Your bib, race shirt and goody bag will be available for pick up at the expo. Packets will not be mailed out and cannot be picked up after the event. 
REGISTRATION FAQ
I did not get a registration confirmation email?
Check your spam filter. If that does not work, then please send an email to madeleine@k2roadsports.com to request a confirmation email.
I cannot make the race in 2021, can I defer my entry until 2022?
Yes you can defer your entry until 2022. For a deferral, please follow the steps in this link:
https://help.runsignup.com/support/solutions/articles/17000062915-defer-registration-claim-deferral
The deadline to defer is at noon, Friday December 10, 2021.
We will not accept any deferments after that time for any reason. There is a $15 fee to defer.
Can I upgrade or downgrade my race distance?
Yes, for upgrades/downgrades prior to December 10, please contact madeleine@k2roadsports.com. After December 10, you can change race distance at the Registration Desk at the Health and Wellness Expo. To upgrade you will need to pay the price difference for the race. There are no refunds for downgrades. We accept changes until the Expo or until the race sells out.
I cannot make the race this year; can I get a refund or transfer my race entry to another participant?
No, unfortunately we do not allow transfers or refunds, including if the race is cancelled. If race officials determine a transfer has occurred, the runner's time will be DQ'd and both runners will be banned from all our running events. ALL legitimate races have this policy, and it has to do with age group awards, qualifying times, and potential medical implications. 
If I provide medical documentation of my injury or pregnancy, will you give me a refund?
We do not allow refunds, but you can defer to 2022. See above.
Is there an age requirement to run ?
Yes. Marathon registrants must be at least 18 years of age on race day; Half Marathon and Relay registrants have to be at least 13 years of age. No exceptions. There is no age requirement for the 5K.
I have a team in the Relay, and one of the members can no longer participate. Can I replace them with another person?
Yes. Please send an email to madeleine@k2roadsports.com to request the change prior to December 10  or at the Expo until 6PM on Saturday December 11, 2021.
PACKET PICKUP FAQ
Where do I pick up my race packet? When can I pick up my packet?
You must pick up your race packet (bib, shirt, goody bag) at the Ed Morse Automotive Group Expo at the Meyer Amphitheater.
Race packets for the Marathon, Half Marathon, Relay must be picked up at the Health and Wellness Expo on Friday December 10 (noon-6PM) or Saturday December 11 (10AM-6PM).
Race packets for the SunRun5K and 10K must be picked up at the Ed Morse Automotive Group Health and Wellness Expo on Friday December 10 (noon-6PM).
Please bring the race confirmation email and a photo ID.
There is NO packet pickup or race registration on race day, Sunday December 12. Please plan accordingly.
Ed Morse Automotive Group Health and Wellness Expo Location:
Meyer Amphitheater
105 Evernia St, West Palm Beach, FL 33401
What do I need to bring to pick up my packet?
Please bring the race confirmation email and a photo ID
Can I have a friend or family member pick up my packet for me?
Yes. They will need to bring your race confirmation email and a copy of your photo ID.
Can I have my race bib and shirt mailed to me?
No. We do not mail out race bibs or shirts
Can I pick up my race packet on Sunday morning?
No. Race packets can only be picked up at the Ed Morse Automotive Group Health and Wellness Expo Friday or Saturday.
Can I register for a race at the Health and Wellness Expo?
Yes, unless the race is sold out. We cannot guarantee shirts or other swag for late registrations.
Where is the Health and Wellness Expo? What are the hours?
Location:
Ed Morse Automotive Group Health and Wellness Expo
Meyer Amphitheater
105 Evernia St, West Palm Beach, FL 33401
Hours:
Friday, December 10 from noon to 6PM
Saturday, December 11 from 10AM to 6PM
Where do I park?
There are several public parking garages near the Meyer Amphitheater.
RACE FAQ
Where is the start/finish line?
The start and finish line for all races is located on Flagler Drive between Evernia and Datura Street by the Meyer Amphitheatre.
GPS: Use Meyer Amphitheater, 104 Datura Street, West Palm Beach, FL 33401
What are the start times for each race?
The SunRun 5K & 10K start at 7:30AM on Saturday, December 11.
The Marathon, Half Marathon, and Relay start at 6:00AM on December 12.
Are  handcycles allowed?
Due to the nature of the course, it is not possible for handcycles to participate in the the full marathon, 10K or the relay.  Handcycles are allowed in the half marathon and 5K.  Should you like more informaton, please contact madeleine@k2roadsports.com
Do you offer pace teams?
Yes – read more about our pace team here.
Can I run with a stroller?
No. Runners with strollers will be disqualified. No exceptions.
Can I run with my dog?
No.
Can I run with my personal trainer?
Personal trainers must register for the race. Only registered runners are allowed on the course.
Where do I park on the morning of the race?
We recommend that you park in one of the public parking garages.
Course 
Is the Garden of Life Palm Beaches Marathon a Boston Qualifier?
Yes, the course has been certified by USA Track & Field and is a Boston Marathon qualifier.
I live along the race course. Where can I find out about race day street closures?
As soon as we have finalized the route, information about road closures will be published on the race website (Event Info > Road Closures)
How long is the course open?
SunRun 5K: Roads open after 1 hour and 20 minutes.
Marathon, Half Marathon, Relay: Roads open after 6 hours. Participants still on the course at this time will be required to move to the sidewalks and obey all traffic signals.
Is there a time limit to complete the race?
The 6 hour time limit means race officials will reopen streets to vehicular traffic on a rolling basis at a 15-18 minute per mile pace. Participants still on the course at this time will be required to move to the sidewalks and obey all traffic signals. The finish line will remain open for 7.5 hours.
Relay
What is the marathon relay?
A 4-person team division dividing the Marathon distance over four relay legs. For all questions related to the relay, please contact madeleine@k2roadsports.com
Spectators
Spectators are encouraged to watch their family and friends along the route. There will be several easily accessible vantage points and we will posting course maps and spectator viewing areas in the coming weeks! Make sure to grab your free cowbell at the Finish Line and make some noise!
What happens if it rains on race day?
The race will go on rain or shine. There are no refunds for inclement weather. Should extreme weather conditions force the cancellation of the race (or any portion of the race) to ensure runner safety, there will be no refunds. However, a discount for 2022 may be offered at discretion of race management.
 FOR THE SAFETY OF ALL ATHLETES, ONLY REGISTERED PARTICIPANTS ARE ALLOWED ON THE COURSE. PARTICIPANTS MUST WEAR THEIR RACE BIB ON THE FRONT OF THEIR BODY. 
STROLLERS, BICYCLES, ROLLER BLADES,  SKATEBOARDS, SCOOTERS, UNOFFICIAL SUPPORT BICYCLISTS, PETS OR ANIMALS OF ANY KIND ARE NOT ALLOWED ON THE COURSE.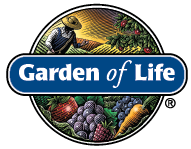 Garden of Life is today's recognized leader and innovator in whole food, Certified USDA Organic and Non-GMO Project Verified nutrition. Headquartered in Palm Beach Gardens, Florida, we offer more than 400 time-tested supplements by leading scientists—all to Empower Extraordinary Health. Whether we're making a vitamin or a probiotic or a protein powder, we always start with fresh, real, whole foods that are traceable back to the seed. From there, these foods provide our formulas that give people of all ages the power to be their best. Visit gardenoflife.com to learn more.
JULIE WEIDNER
Over the years, I've been lucky enough to run all the race distances on the Palm Beaches Marathon course and have logged many many training miles there as well. I love running the course for the beautiful sunrise and all the tropical waterfront views Palm Beach has to offer!
Join me for the Garden of Life Palm Beaches Marathon and run a 5K, 10K, 13.1, 26.2 or grab some friends and run the Marathon Relay! You even have the option of running one of the challenges on Saturday and Sunday. No matter what distance you choose, you are sure to have a lots of fun, a great run and earn a fabulous goodie bag and amazing bling!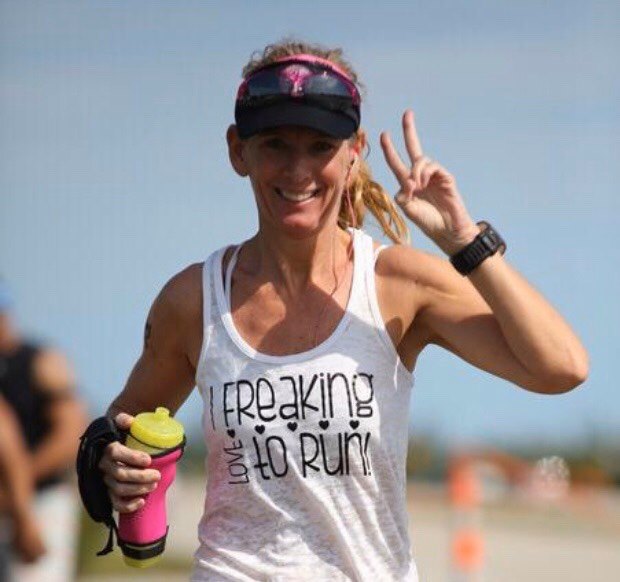 GARDEN OF LIFE PALM BEACHES MARATHON
Race Beneficiary
The mission of Special Olympics Florida is to provide year-round sports training and athletic competition in a variety of Olympic-type sports for children and adults with intellectual disabilities, giving them continuing opportunities to develop physical fitness, demonstrate courage, experience joy and participate in the sharing of gifts, skills and friendship with their families, other Special Olympics athletes and the community.
Find out more about our local Special Olympics athletes below.
TERRENCE FREELOVE
Sports: Basketball, Bowling, Softball, Surfing, and Track & Field
Bio: In the last 8 years as a Special Olympics athlete, Terrence has developed into both an excellent athlete and a young man committed to making the world a better place. His athletic career began in the 3rd grade when he picked up bowling and basketball. Since then, he has developed into a multi-sport athlete excelling in track & field, surfing and softball. Through his Special Olympics participation in basketball, Terrence has developed into a force to be reckoned with, earning his position as the team captain. His leadership extends beyond the court, so much that he has committed himself to the service of others. He is an active volunteer in his church, assisting wherever he is needed. Through his involvement in many Special Olympics fundraising events, he has cultivated a strong relationship with the West Palm Beach Police Department and volunteers to support them in various community initiatives. His impact does not go unnoticed and he continues to inspire those around him. Last year, he was the recipient of the Inspirational Athlete Award for his local program and was inducted into the Special Olympics Florida- Palm Beach County Hall of Fame as the Athlete of the Year.
Athlete Statement: "I love being the captain and supporting all the teams, not just mine. I love working together as a team and helping my teammates with their skills. If you work hard and believe in yourself, anything is possible."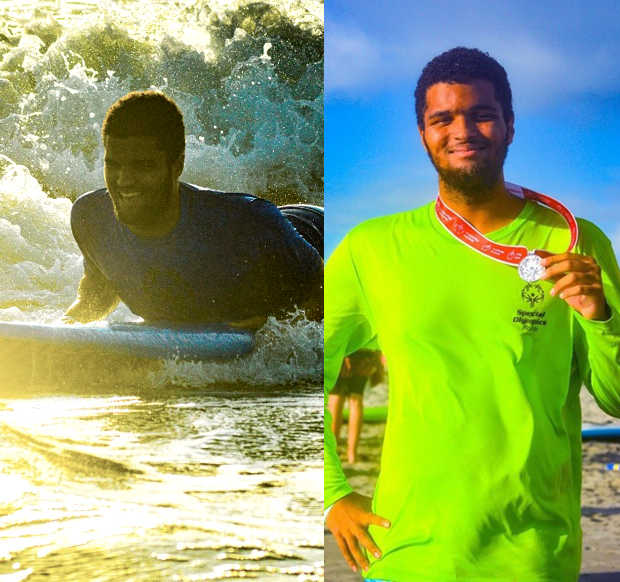 LINDSAY FULOP
Bio: As recipient of the Athlete of the Year Award, Lindsay Fulop knows what it means to excel at the highest level. Her journey began with Special Olympics 35 years ago, and she has been unstoppable since. Growing up in a household grounded in sports, Lindsay much like her two sisters who were collegiate athletes, was gifted with an athletic ability. As a multi-sport Special Olympics athlete, she quickly established herself as world-class—winning multiple medals, namely at the 1995 and 2007 Special Olympics World Games. That said, Lindsay's talents and accomplishments extend beyond the playing field. She is a Special Olympics Global Messenger, participated in the 2013 Special Olympics Athlete Congress and has been the Palm Beach County Athlete Input Council Chairperson since 2019, just to name a few. Besides the athletic accomplishments and accolades, Special Olympics has given Lindsay the opportunity to develop professionally, athletically and personally through sports. She enjoys the global exposure she has been awarded with her participation—the chance to train, compete and meet new friends locally, nationally and globally. Without Special Olympics, these opportunities may have never been possible.
Sports: Golf, Swimming, Track & Field, Stand Up Paddle, and Basketball
Statement: "Special Olympics Florida gives me a chance to discuss issues with other athletes and make my opinions heard."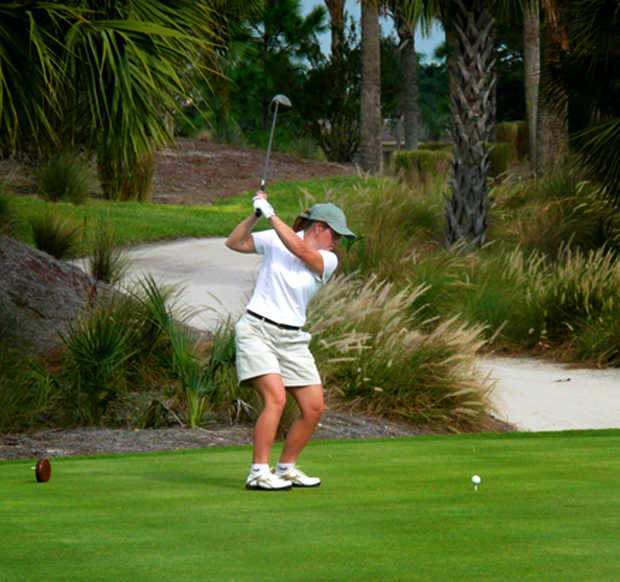 SUBENTZ CHARLES
Bio: Subentz has been a Special Olympics Florida athlete for the last three years. Although he participates in various sports, his love for horseback riding has helped him develop into a very successful Equestrian. Subentz aspires to continue to spread happiness and bring joy to all those he meets through his participation as an athlete.
Sports: Track & Field, Basketball, Equestrian, and Bocce
Statement: "Being a part of Special Olympics Florida has been one of the most rewarding experiences in my life. To be respected and appreciated as a valuable member of the community is awesome."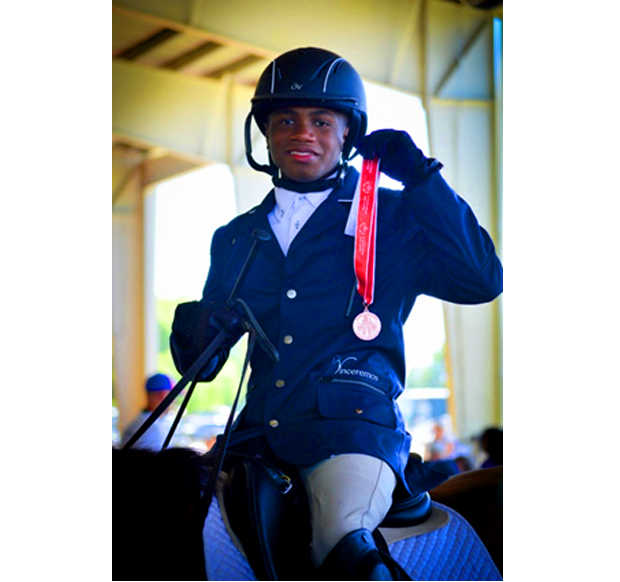 ADISON GOBARDHAN
Bio: Adison is 11 years old and has been participating in Special Olympics since she was 3 years old.  Her journey began with Young Athletes in Palm Beach County. When she was finally able to compete at 8 years old, she quickly developed a love for equestrian, the 25-meter dash and tennis ball throw. Adison may be young, but her talents are mighty! In her first year competing in equestrian she won a bronze medal at the State Competition. Additionally, she also won gold medals in both the 25m dash and the tennis ball throw at the 2019 Special Olympics Florida State Summer Games.  She enjoys meeting new friends along the way and cherishing the ones that she has had from the beginning.  She loves to make her coaches proud and is very thankful for everything that they have done to get her where she is today. 
Sports: Equestrian and Track & Field

Athlete Statement: "Participating and being included in sports like my peers is important to everyone."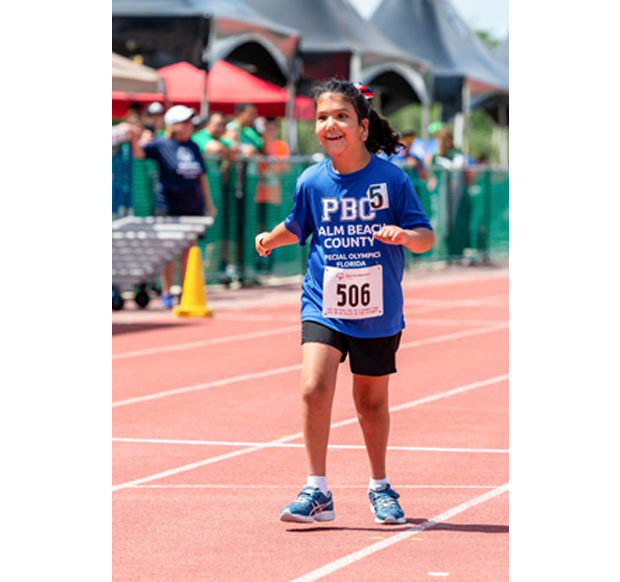 JOANNA THOMPSON
Bio: After Joanna moved to Florida from Canada at age 6, she developed a keen interest in sports. In middle school she participated in several sports through Special Olympics Florida. She has found a passion for track & field, bowling and is an integral part of the basketball team, through which she has won multiple medals. When Joanna is not participating in Special Olympics Florida events, she is working at her job at Lynn University or cheering on her favorite team– the Miami Heat!
Sports: Basketball and Track & Field
Athlete Statement: "Helping my teammates and supporting my team has been the best experience."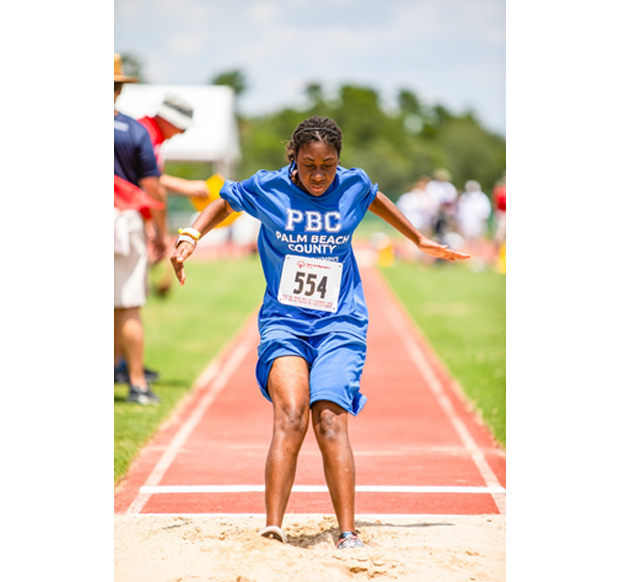 KHLOE JAGOSITS
Bio: I am a 10-year old girl who loves to dribble the basketball, surf, and run on the track with my teammates!  I also love to sing in my choir at school. I have been in Special Olympics Florida since I was 4 years old. I have a lot of awards from all the sports I play, but my most cherished medals are from the state competition in basketball and surfing. I was scared to try new sports but being a part of Special Olympics Florida has built my confidence and improved my motor skills.
Sports: Basketball and Track & Field
Athlete Statement: "Special Olympics is not just for people with special needs.  All people can enjoy and be a part of it."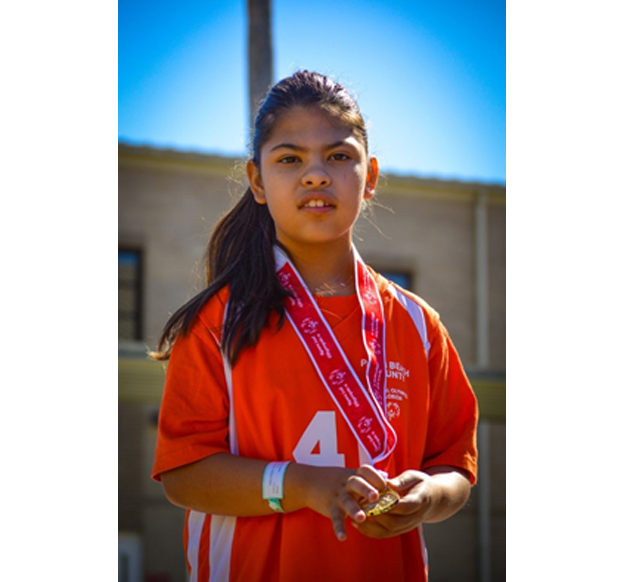 GRACE SUNDQUIST
Bio: I began competing with Special Olympics 12 years ago. I participate in many sports and have won many gold and silver medals. My favorite sport is cheerleading, because I get to cheer my teammates on! I also love everything Disney. My passion is fashion, and I'd like to design Disney clothing and accessories. I recently graduated from Florida Atlantic University's Academy for Community Inclusion.
Sports: Basketball, Soccer, Cheerleading, Swimming, and Stand Up Paddle
Athlete Statement: "Special Olympics is for children and adults.  I love that I get to move my body and pay attention to my health."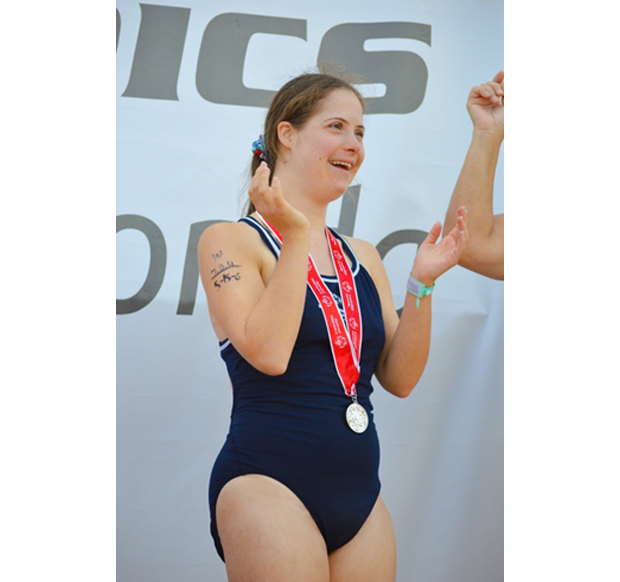 MELISSA RIVEROS
Bio: Melissa Riveros has been involved with Special Olympics for over 30 years. She competes in a variety of events such as swimming, tennis and bowling. Outside of Special Olympics Florida, she loves singing, dancing, listening to music and drawing. Her most memorable accomplishments include participating in the 2006 Special Olympics USA Games, being named Athlete of the year in 2008, and honored with the Palm Beach County Sports Hall of Fame Athlete Award.  She has also represented Palm Beach County at Special Olympics Florida Champions Gala in Orlando.
Sports: Swimming, Bowling and Tennis
Athlete Statement: "The most rewarding experience is being part of a group of friends and athletes in all the activities. Special Olympics provides the opportunity to grow in a social, physical and emotional way."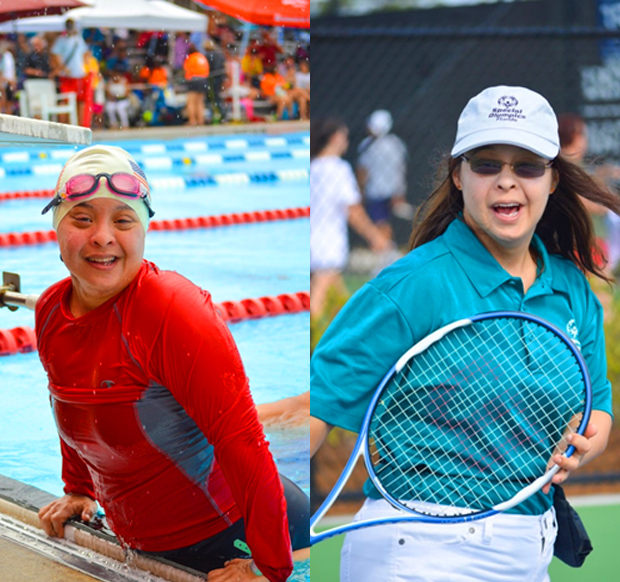 BRETT WILLIAMS
Bio: I have been a Special Olympics athlete for 21 years. I train and compete in Tennis, Bowling and Surfing.  Tennis is my favorite sport as I train year-round, and it gives me confidence as I improve my game. I now play in a men's league in my county as well as in Special Olympics, and I have had success in both. In the last ten years I have won multiple gold and silver medals at the Special Olympics North American Tennis Championships, namely in 2015 when I won gold for both singles and doubles!
Sports: Tennis, Bowling, and Surfing
Athlete Statement: "Athlete Leadership is important to me because it means my voice is being heard in the dialogue for Special Olympics."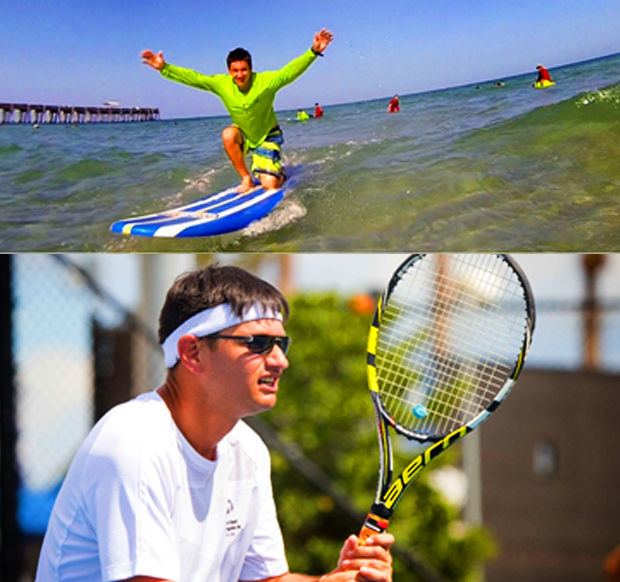 KATHERINE BROZ
Bio: Katherine is 27 years old and has been with Special Olympics for 15 years. Through her participation, she has grown athletically, professionally and socially. She loves to train and compete year-round in a variety of sports. Her involvement in Special Olympics Athlete Leadership empowers her to give back and help others. When she is not busy competing, she is volunteering in the community and teaching others all about Special Olympics Florida.
Sports: Swimming, Surfing, Bowling, Track & Field, and Basketball
Athlete Statement: "I loved being one of the four athletes chosen to run the torch at the Special Olympics Florida State Summer Games. It was at ESPN Wide World of Sports with thousands of people in the stands and hundreds of law enforcement representatives on the field. I felt like I was part of something very special and important. Special Olympics to me means being accepted by everyone and people seeing past my difficulties and loving me for who I am."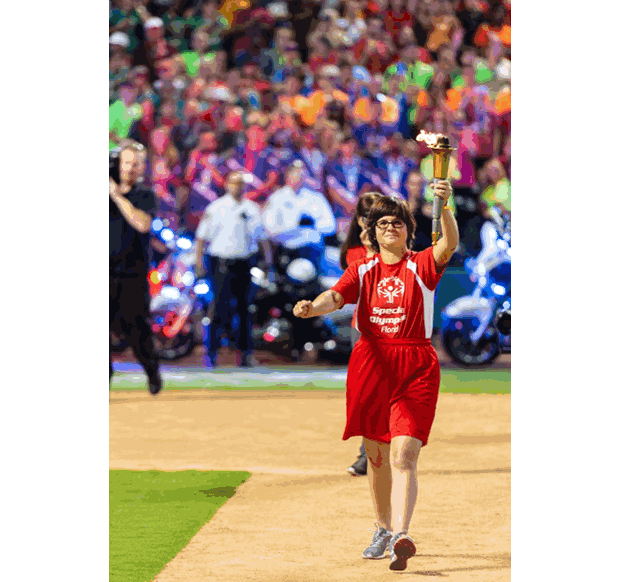 LET US HELP YOU GET READY TO RUN! 
The Garden of Life Palm Beaches Marathon is back December 11-12, 2021, and as presenting sponsor, Jupiter Medical Center Foundation, along with Palm Beach Roadrunners, is leading a 16-week training program that will kick off Friday, August 20.
Marathon Training Registration includes:
Half or full marathon race entry ($105-$130 value) for the first 50 registrants, and 20% entry fee discount to remaining participants
16-week training program provided by certified training coaches from Palm Beach Roadrunners
Regular motivation and communication
Training singlet and cap
Nutrition, injury prevention clinics and more!
Commitment to raise $250 minimum to benefit Jupiter Medical Center Foundation. 
To register or for more information, call 561-263-3459 or email kristen.lindstrom@jupitermed.com.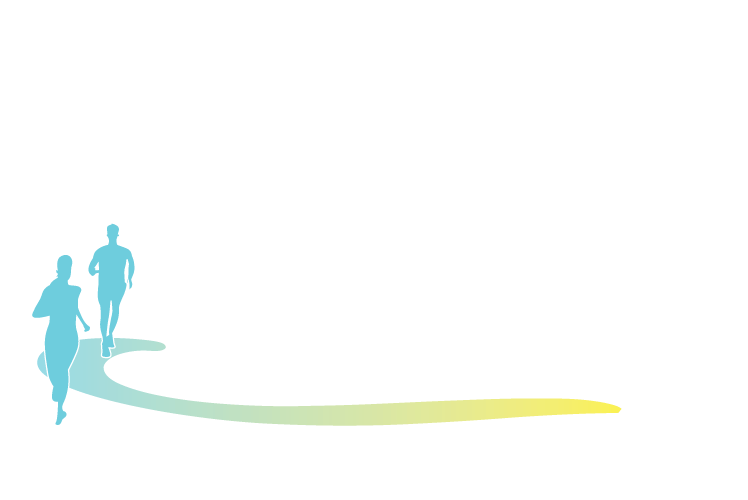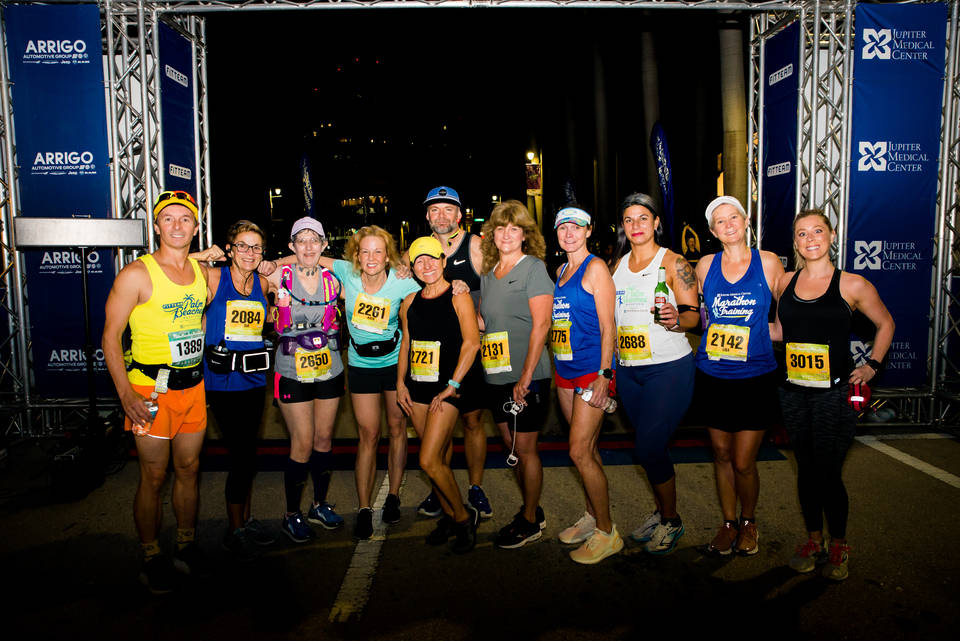 Jupiter Medical Center Foundation Marathon Training Team 2020. Photo Credit: Erica Dunhill Photography.